The Amsterdam Dance Event (ADE), the world's largest club festival and business conference for electronic music, has finalised its program. Between the 16th and the 20th of October more than 2,500 artists and 600 speakers will take part in the event in Amsterdam. The organisers expect to welcome over 400,000 visitors from over 100 countries for the 24th edition.
In recent years, the Amsterdam Dance Event has become the most important breeding ground for electronic music culture. Besides the extensive conference and festival program, ADE highlights current technological and social trends as well as crossovers with other genres such as film and photography, making Amsterdam the meeting point for the global electronic music community.
100 years of electronic music | Focus on France
ADE traditionally kicks off on Wednesday, October 16th with an opening concert – this year featuring the British artist SOHN and the Metropole Orkest – and ends on Sunday with the ADE Hangover, a free city festival at the NDSM wharf. In addition to the previously announced focus on France, which includes a special program in De Balie and numerous emerging and established artists, this year's program also pays homage to 100 years of electronic music instruments, including a specially arranged museum in De Brakke Grond displaying special instruments, and hosting talks and workshops with pioneers from all over the world.
ADE Program
Additionally, the program puts the spotlight on sustainability, social innovation and other important themes such as mental health. Education and talent development are also taking centre stage, with multi-day programs ADE Sound Lab and ADE Univerisity for starting artists and young professionals, a Writers Camp in Vondel CS. 2019 also sees the return of ADE LIVE, the two-day program that offers a platform to emerging live talent. After the focus on South Korea last year, the musical growth of Asia is again strongly represented in the day and night program. The country pavilions in De Balie are set to return with special attention for Japan and China, among others.
ADE Zen Space
Next to this, the organisation is premiering the ADE Zen Space, a multi-day program in De Waalse Kerk in the center of Amsterdam where visitors can relax with a special sleeping concert, meditation and special audiovisual installations. The full cultural day program spreads over more than 40 locations with the Eye, Het Hem and Lab111 and as eye-catching locations.
Conference Speaker Update
The latest announced conference speakers include Armin van Buuren (NL), Carl Cox (GB), Charlotte de Witte (BE), Doris Chrysler (AT), Floating Points (UK), GAIA (NL), Joris Voorn (NL), Malcolm Cecil (GB), Miss Kittin' (FR), Shelly Powell (US) and Suzy Ryoo (KR). They join the already announced Ukrainian artist and label owner Nastia (UA), DEAG's Detlef Kornett (DE), ID&T founder Duncan Stutterheim (NL) producer/DJ Hannah Wants (GB), early AKAI MPC innovator Roger Linn (US), global music rights clearance expert Deborah Mannis-Gardner (US), Phase One Network Inc. CEO Frank Babar (US), award winning African hip hop Artist Gigi LaMayne (SA), artist and label owner Elena Colombi (IT), Elrow Family's Jo Vidler (GB) and noted hardstyle artist William Rebergen aka Headhunterz (NL), Amazon Chief Technology Officer Dr. Werner Vogels (NL), Lisa Ellis (US), Soundcloud's new global head of music and artist relations, Group Vice President of Tencent Music Entertainment Andy Ng (CN) and head of AEG Studios Raymond Roker (US) amongst others.
Artist Line Up
Previously the organisation announced that Amelie Lens (BE), Carl Cox (UK), Carista (NL), Colin Benders (NL), DJ Nobu (JP), Helena Hauff (DE), Identified Patient (NL), Jeff Mills (US), Martin Garrix (NL), Nastia (UA), New Order (UK), Peggy Gou (KR), rRoxymore (FR), San Holo (NL), Sevn Alias (NL), SOPHIE (UK), Tchami (FR), The Black Madonna (US) and Tiësto (NL) are set to make an appearance.
Among the latest announced artists are: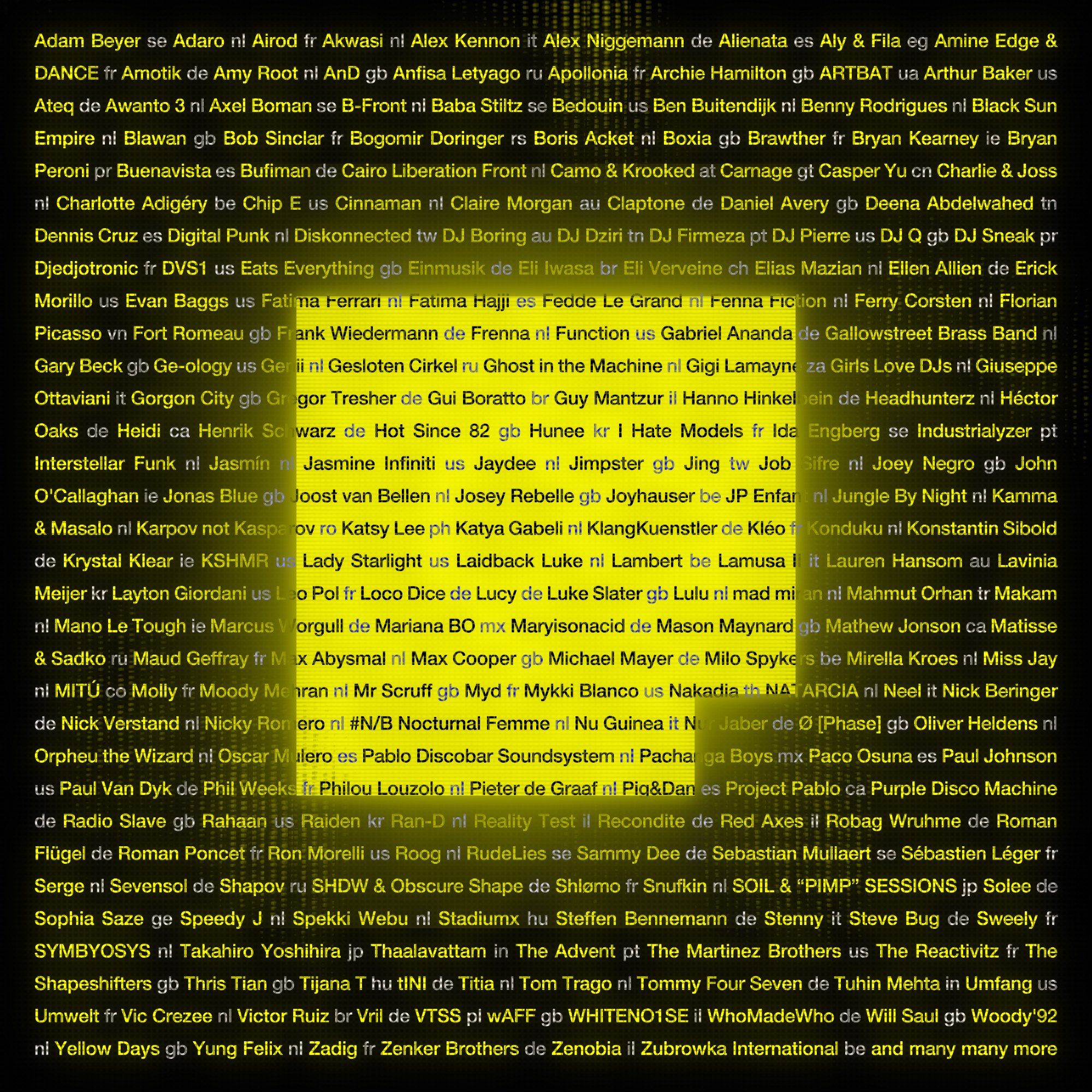 The Amsterdam Dance Event will take place from 16 to 20 October 2019.
For tickets, more information about ADE and a complete overview of the program: a-d-e.nl