Have you heard about South West Four Festival? This amazing festival is in its 14th edition, and for those who don't know, it's considered the biggest electronic music festival in London! The SW4 will rule the city for the weekend, in the beautiful surroundings of Clapham Common Park, on Saturday (26) and Sunday (27) August, with up to 5 different stages and a superb line up its set to make all other European festivals jealous. Check the Sunday line-up below: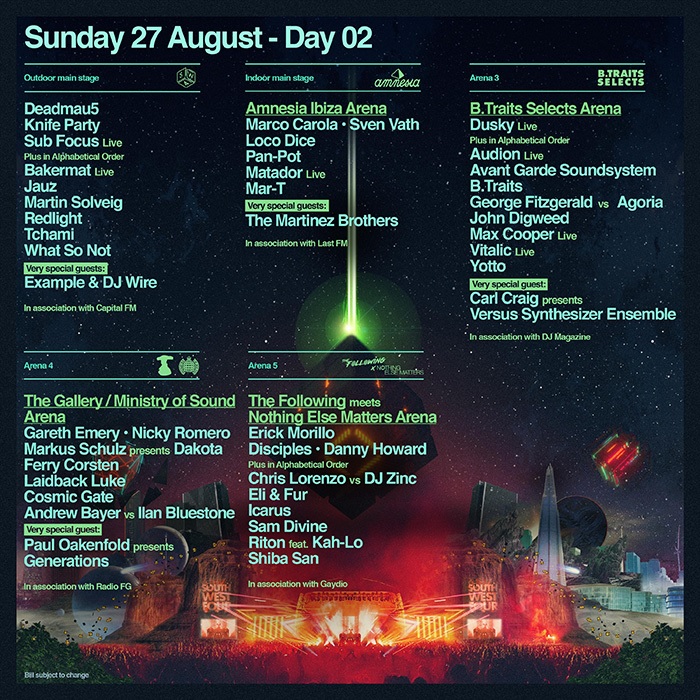 Electronic music enthusiasts from all over the world are about to see the best DJs and artists that have ever set foot on the planet, as well as stages no other UK festival has ever seen. It's no wonder this festival is acclaimed by the media, is it? This year the production will mix state of the art production with increased sound levels that crowned last year's weekender as their most critically acclaimed (and LOUDEST) SW4 ever and we're going to follow everything up closely!
We're about to dive into a parallel universe where electronic music is alive and for two days we'll enjoy the best vibes and enjoy the blast at this incredible festival!
We'll have Deadmau5, Eric Prydz, Pendulum, Duke Dumont a lot of trance, progressive, tropical house and a lot of vibes as well! Where lifelong memories are forged and friends made for life. Where for two spectacular days, beaming smiles and sunshine replace board meetings and deadlines. Come with us and press play to feel the energy of the 2016 edition of SW4 and don't forget let's live for the moment!
EVENT: South West Four 2017
VENUE: Clapham Common, London
DATE: Saturday 26th and Sunday 27th August 2017
TICKETS: WEEKEND TICKETS  & SATURDAY SOLD OUT, SUNDAY TICKETS SELLING FAST – www.southwestfour.com